Professional Installation of Custom Gutters & Gutter Screens
Gutters play a highly important role in protecting your home against water damage. After rainfall sweeps through the Kansas City area, all that water needs somewhere to go. If you don't have functioning gutters, the water is liable to pool at your foundation, where it can damage your siding and the foundation itself.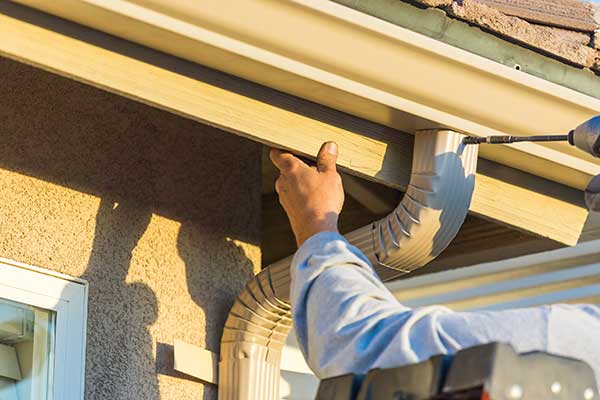 If you need help outfitting your home with a quality gutter system, Green River Roofing & Construction, Inc. can help. Our company custom-manufactures gutters to suit your home's existing color and design.
About Our Custom Gutters
Green River Roofing & Construction, Inc. specializes in custom-fabricating seamless gutters for homeowners and business owners. Types of gutter systems we install include:
5-inch & 6-inch seamless gutters
8-inch custom gutters
Half-round gutters
Our seamless designs eliminate the potential for gaps and leaks along the perimeter of the roof (except at the corners). This provides enhanced system performance compared to traditional gutters that are pieced together in many sections, leaving many spots for water to escape. Our modern gutters help to prevent that from happening.
Gutter Screens & Cover Systems
If your gutters often become clogged with leaves, dirt, twigs and other debris, they cannot function as designed. Green River Roofing & Construction, Inc. has the solution! We can install quality gutter screens to keep debris out of your gutters while still allowing rainwater to flow into and through the system. They will keep your gutters clear and you on the ground.
Contact Us for a Free Installation Estimate!
Green River Roofing & Construction, Inc. has installed hundreds of gutter systems for local property owners. As an experienced roofing and gutter installation contractor, we understand how to provide a durable installation without damaging the roof. To get started with a free on-site estimate for your new gutters, call us today at (816) 246-4772 or fill out the form and we will respond in 24 hours or less.