Commercial Roofing Contractor Serving the KC Metro Since 2004
Are you searching for an experienced commercial roofing contractor? Green River Roofing & Construction, Inc. has been providing local business owners with attractive, long-lasting commercial roofing since our founding in 2004. We are a family-owned company that brings integrity to every project we complete, and no job is too big or too small. Whether your roof needs a small leak repair or your property needs a completely new roof, we are the contractor for the job.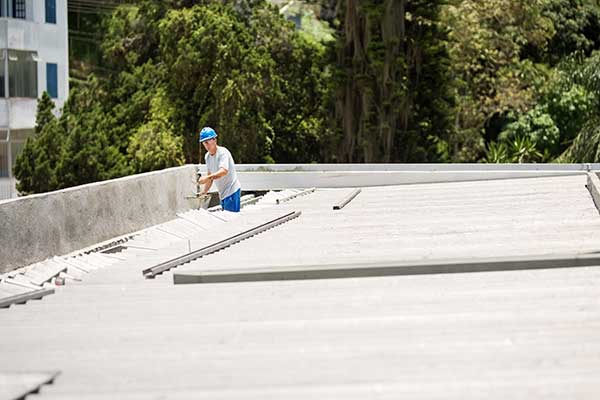 Free roof inspections
Accurate bidding process
Complete cost analysis
High-quality installations
Warranties up to 25 years
Annual maintenance programs
Specialists in Flat Roof Installations & Coatings
Green River Roofing brings excellence in workmanship to your single-ply flat roofing needs. Come to us for top-quality service you can trust when you need any of the following single-ply flat roofing membrane types repaired or installed:
TPO – TPO is a rubber roofing single-ply membrane that is often chosen for its low cost and reflective abilities. Because TPO comes in white rolls or sheets, the roof is able to reflect the sun's UV rays.
EPDM – Often referred to simply as "rubber roofing," EPDM is a low-cost option that can last upwards of 20 years. EPDM typically comes in large black rolls or sheets, making it relatively easy to install.
PVC – PVC is a more expensive single-ply roofing membrane, often worth the upfront investment for its long-lasting durability and resistance to various types of damage.
About Our Flat Roof Spray Coatings
We recommend all flat roofing systems be treated with a roof coating that ensures a watertight seal. Due to their flat nature, these roof types are susceptible to water puddles and penetration. In order to keep your roof from being damaged, Green River Roofing can apply a flat roof spray coating that waterproofs the roof and helps your building stay dry.
Contact Us for a Free Roof Inspection & Estimate!
Green River Roofing & Construction, Inc. is available to serve as your trusted commercial roofing contractor in the Kansas City area. Schedule a free roof inspection and estimate with us today! Call us at (816) 246-4772 or fill out the form and we will respond in 24 hours or less.